This past weekend we enjoyed a rare weekend in town with no major plans, which allowed us to meet up with friends, sleep in late, make breakfast, and spend a day at the beach. It was a wonderful weekend!
This is at a beach close to Galveston. There's Jeff (yup that blue dot) out wading in the surf trying to fish. The wind was really strong, so it was not a very successful fishing trip, but I really enjoyed getting to lay in the sun reading and taking in these views.
This was the breakfast I made on Saturday morning. I used Hungry Girl's Eggs Bene-chick recipe to reduce the calories per serving...which means you can get two servings, right? Yes, why not?!
Eggs Bene-chick
1 half of a light English Muffin
1 slice of lean ham
1 large egg
For the sauce:
1 tbsp. fat free mayonnaise
1 tsp. Dijonnaise (which I couldn't find, so I just mix some Dijon mustard with the ff mayo)
1 tsp. reduced calorie light butter spread
1 tsp. lemon yogurt
Stir all sauce ingredients together and set aside. Crack egg gently into a small dish. Fill a pot with two inches of water and heat to a boil. Then reduce heat to a very slow steady boil. Gently pour in the egg and cook for 3-5 minutes depending if you prefer a runny or firm yolk. While cooking the egg, toast your muffin and cook the ham. Carefully remove egg and dab with a paper towel to remove excess water if you like. Heat sauce in microwave for about twenty seconds. Layer the toasted muffin with the cooked ham and poached egg and then drizzle the sauce over the top. Delish!
I'm linking up to Tasty Tuesday's over at
33 Shades of Green
. There are always so many great recipes to look at. You should go check them out!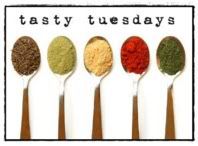 and I'm also linking up to What I Whipped Up Wednesday at
Sugar and Dots
. All kinds of great recipes and DIY's projects!
Tara